Back to Energetic Balance
To be happy means to be in inner harmony, in inner equilibrium and to be confident. If the structure of the body, mind and soul are greatly out of balance, then energy healing treatments with Universal White Time Healing, can help to get back to one´s well-being.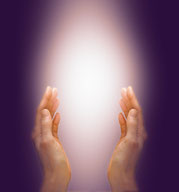 The procedure of hands-on healing is done in collaboration with Angels and Ascended Masters who guide and support the healing process. Cosmic white light, called White Time, enters through the crown chakra of the practitioner and exits through his palms into the body and energy bodies of the client. This leads a harmonizing cosmic energy flow to the places that mostly need it.
Healing with Light
A remote energetical treatment, including a "color rain of cosmic healing light", allows a deep relaxation and gives new strength. Targeted treatments of the chakras and the laying on of gemstones allow reactivation, cleansing and repair of blocked chakras. This cleansing is possible even back to the first incarnation. And cleansing the aura helps to remove stored negative beliefs, so that new positive attitudes can be lived - and happiness can manifest itself in our lives.
Learn more about this worldwide practiced spiritual healing method on all subpages. You also have the option to become a Universal White Time healer yourself! If you are interested, take a direct look at the section Spiritual Education. 

IMPORTANT:
An energetic treatment with Universal White Time Healing serves to promote self-healing and the improvement of well-being and is not a substitute for diagnosis and medical treatment of diseases by a doctor or health practitioner. Therefore health problems should always be medically investigated before an energetic healing session can take place.