Seminar White Time Healer Level I
In this seminar, your White Time Healing Channel is opened through three sacred initiations. It is a healing channel, which you can open and close at will. Moreover, 13 blockages that you have accepted to incarnate here on earth will be removed. These blockages have been affecting your aura, your clairvoyance, as well as ypur language, numeracy and learning skills.
One day before the seminar begins, you will receive an energetical supportive preparation for your healing work and the opening of your healing channel, the so-called "teacher energy". This energy is activated by me and prepares you for your upcoming inaugurations. In addition, this energy ensures that you can already perfectly practice with the White Time energy during the seminar.
The level of I to IV are building up on each other. Each level offers you further treatment options with White Time Healing, going deeper and deeper, up to treatments in Level IV regarding healing of blockages from the first incarnation. Every course provides theoretical and practical knowledge, so that you are perfectly trained to apply the immediately after the seminar.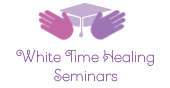 Do you still have some questions or want to participate in this seminar?
Then contact me or sign up here via this form.
Here is an overview of the learning content of Level 1
The seminar will take place over two days. It´s the basic training and inauguration for White Time Healer including channel opening. The seminar provides theoretical and practical content, including detailed seminar documents. Here is an overview of the seminar content:
There will be three initiations and the opening of the channel for the healing energy by the time White White Time teacher

Preliminary information for White Time Healing Energy

Where does this energy come from?
What happens during an White Time treatment
What happens within the healer?
Principles of energy healing

The Golden Movement: learning a powerful ritual for energy charging the hands with universal high vibrating energy (Part I)
Method of self and distant healing
Method of shoulder healing through certain energy channels
Method of comprehensive body treatments, as a basis for all other White -term treatments
Method of short Aura Cleansing
Method for quick balancing of the chakra system
Special Healing for plants, animals, mother earth, food
Application of powerful cosmic symbols for healing
The aim of this training White Time Healer Level I is ...
to provide first hand tools for energy healing of yourself and/or clients. This can be done by contact with physically present and not present clients or yourself in distant healing.

This level empowers you to give energetic healing and can be used immediately as part of a healing practice. The completion of additional training levels offers extended abilities, knowledge and methods to practice White Time Healing methods successfully (see complete training overview of all levels).
This level is also very well suited for people who want to use this method for private use and for their self-healing (e.g. for family and friends).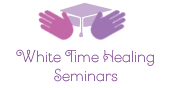 Do you still have some questions or want to participate in this seminar?
Then contact me or sign up here via this form.
Important:
Please do not wear black or bright red clothing on seminar days. Please wear comfortable clothing, slippers, flip flops or socks.

At the end of the seminar each student will receive a certificat, enabling to take upbuilding levels/courses of Universal White Time Healing worldwide. 


This seminar lasts two days, from 8 am until about 8 pm and costs 325 EUR (plus VAT) including seminar materials, snacks, tea, coffee and water.
IMPORTANT:
An energetic treatment with Universal White Time Healing serves to promote self-healing and the improvement of well-being and is not a substitute for diagnosis and medical treatment of diseases by a doctor or health practitioner. Therefore health problems should always be medically investigated before an energetic healing session can take place.