Advice from your Angels
The world is changing. Many people are faced with serious challenges - at work, in private and family life, in their personal orientation and search for meaning. Many find it hard to find orientation, their own right way to more happiness, harmony and well-being.
More and more people are becoming aware that there is more between heaven and earth than what we perceive with our physical senses. Being in contact with the spiritual world  allows us to find the path of our destiny, our intuition, our inner voice, our gut feeling.    
Is it hard for you to hear your inner voice? Don´t you know how life will go on, how you can proceed in your love life or your profession?
We have numerous spirit guides who want to help us. A way to communicate with them is possible via oracle cards readings. Along with messages from the Akashic Records, these offer extra valuable insights into often hidden karmic connections to past lives. I will advise and accompany you on your spiritual path and convey helpful answers from your angels and/or the Akashic Records to your questions. You can request an oracle card reading and akashic channeling from me.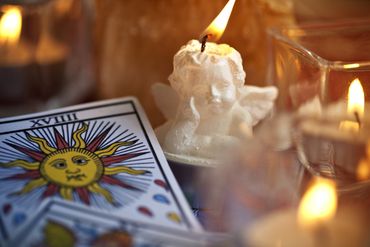 Another way that you can go in order to perceive these messages from your inner wisdom and to be able to virtually get in touch through a "keyhole" is ...
Pause.
Come to rest.

Be in silence.
And ask questions.
Then wait for answers.